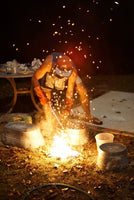 The Human Touch
Humans have been innovating, creating and building with their hands since the beginning of time. We believe in the importance of maintaining this tactile creative way of life in an increasingly technological society. 
Synergy
|ˈsinərjē| (also synergism |-ˌjizəm|) noun.
The interaction or cooperation of two or more organizations, substances, or other agents to produce a combined effect greater than the sum of their separate effects.
Lisa Tantillo & Zack Callaghan are a team of collaborative ceramicists based in Atlanta, GA. Both attended the University of Georgia School of Art and tour the National Fine Art circuit full time selling their handmade creations. Their monster themed functional ware symbolizes different aspects of the human psyche and seek to shine a comical light upon the inevitable demons all people face in the journey of life. Their inspiration stems from world folklore spanning from Norse mythology and Japanese Yokai tales to the Epic of Gilgamesh. The pair work in porcelain, throwing forms on the wheel, making molds and hand sculpting faces on each piece, mixing their own glazes and firing cone 6 oxidation and Raku. 
Midnight Collection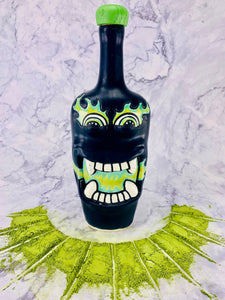 Vigilant Gargoyle
Gamabooki Choo-Choo Jar
This adorable mug came right on time and with lots of love and care put into the packaging! can't wait to order again! we love you Calou Calay!

Lorna
   I LOVE my monster. The quality is even better in person, very solid and perfect craftsmanship. The buying experience was wonderful and the shipping was super quick. This monster just brightened my day!

Beth
5 out of 5 stars. I'm so very happy with my first mug from Calou Calay! This sweet robot has the most adoring look in his eyes. I love him so much! Seriously, I must have more of your stuff!
Thank you Lisa and Zack you are great!

Stacy